PMB Industries planetary Mixer Bowl 

Gearboxes

 for Concrete Trucks: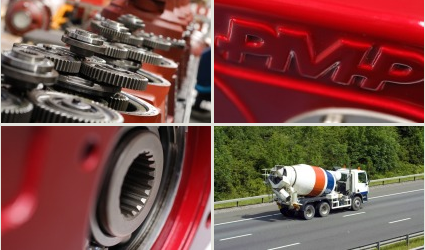 Concrete Mixer bowl gearbox leading manufacturer PMP are now available at Moore-Quip.  PMP's mission was to design and develop and manufacture the most efficient, reliable and quiet mixer bowl gearboxes for each specific truck application. PMP has been supplying its PMB mixer bowl gearboxes to leading concrete suppliers in Europe since its foundation in 1991. PMP is an acknowledged as a world leader in the manufacture and production of Mixer bowl gearboxes for concrete mixer/agitator trucks. The  PMB mixer bowl gearboxes constantly exceed customers' expectation for reliability,durability, efficiency and serviceability, this is achieved by the selection of the best materials and the attention to detail.
PMB mixer bowl gearboxes offer the widest range of applications on Mixer Trucks agitators  and Trailers mixers: up to 16 cubic meters drum capacity. PMP is also  supply of complete transmission systems, including mixer bowl gearboxes, hydraulic motor and hydraulic pumps, water pump and other mixer truck ancillary equipment. PMP introduced the Reverso series of gearboxes as a smart alternative to right angle drives. The Reverso mixer bowl gearboxes combine extremely compact dimensions, excellent design and durability, simplicity and efficiency, as these models have not adopted any bevel gear stage design.