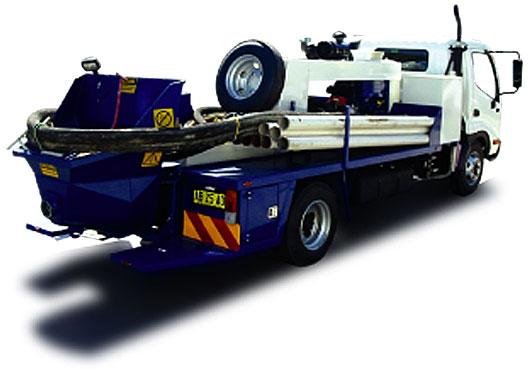 Spares for Jacon  Sidewinder Series Truck Mounted Concrete Line Pump.
The Sidewinder series is ideal for those jobs were only a line pump will do. Moore-Quip is capable to of supplying all spare parts and after sales service for this popular Jacon model. Our spares not only meet the Original parts but in most cases exceed the OEM quality. Only Genuine vendor parts used.
The JACON Sidewinder concrete line pump draws on nearly 40 years of production of concrete pumps,line pumps and Shotcreting equipment.  You will be highly impressed with the quality durability, reliability and cost-effectiveness and yet simple to operate of these Jacon concrete line pumps.
The Jacon "S" valve is designed to handle extremely concrete mixes as well as low slump mixes making the Sidewinder concrete pump ia very versatile pump for pumping stiff, low-slump concrete. The receiving hopper has an unrestricted, large, free-filling opening. The Dual Circuit hydraulic system means fast, smooth switching of the heavy duty "S" valve resulting in an almost continuous flow and giving longer life of wear components. The Rexroth hydraulic manifold blocks eliminate the need  any hoses and fittings, reducing oil leaks. Your return on investment is unmatched when comparing Jacon concrete pumps with any model.
Standard Features
High performance diesel engine
"S" valve with automatic adjustment cutting ring
Dual circuit hydraulics and accumulator
Fully hydraulic pilot system, simple, reliable and maintenance free
Hardchromed concrete cylinders
Splash guard
Hopper grate with safety interlock
Instant reverse on pumping cylinders
Fully automatic stroke adjustment
Single channel cordless remote control for pump ON/OFF
Variable displacement Piston Pump
General Specifications:
Type: Swing tube model with dual reciprocating pistons
Engine: 4 cylinder turbo charged Duetz Diesel Engine.
Power: 5.5 KW @ 2800 rpm.
Hydraulic Pressure Max: 250 Bar.
Hydraulic Oil Capacity: 200 Litres
Recommended Truck Specifications:
Type: 4×2 Cab Chassis
G.V.M: 7000 kg
Wheelbase: 3.3 m.
Chassis width: 820 mm
Examples: Hino Dutro 6500, Isuzu NPQ 300
Performance Capabilities:
MODEL

  

Sidewinder 

6000

Sidewinder 

7000

Sidewinder 

6000LS 

Sidewinder 

7000LS 

Rated Output (m3/hr)

30

45

35

30

Pumping Cylinders Stroke (mm)

152 x 915

175 x 915

152 x 1145

175 x 1145

No of Stroke (per minute)

35

35

30

30

Vertical Reach (m)

90

60

90

60

Horizontal Reach (m)

300

200

300

200

Line Pressure (Bar)

70

50

70

50

Max Aggregate Sizes (mm)

40

40

40

40
Note: Performance may vary due to concrete mix design, job site conditions and line set up.
Features:
Variable displacement piston pump
Fully automatic stroke adjustment. No valves to set or adjust.
Dual hydraulic circuit for positive swinger tube displacement.
Fully hydraulic pilot system for maximum reliability.
Single channel cordless remote control for pump ON/OFF.
Optional:
4 Channel Remote Control.
Hydraulic Jack Legs.
Pipeline Equipment.