Ultrasonic Thickness Tester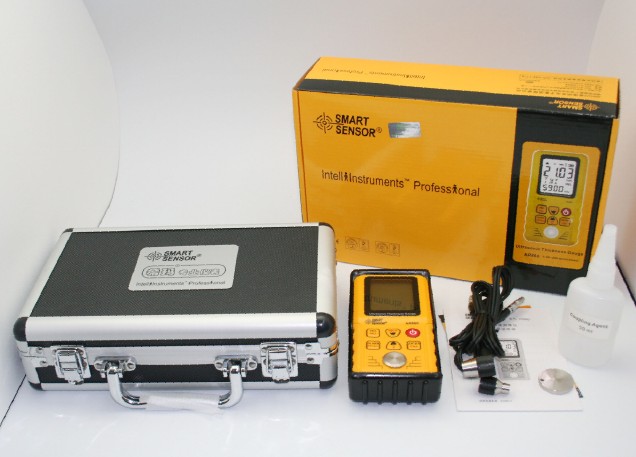 Ultrasonic thickness tester unit is suitable for measuring, boom pipes, bends, reducers and any steel or hardened steel pipe, tube and or plate.
Moore-Quip is a leading supplier of Ultrasonic Thickness tester Gauges. Ultrasonic Thickness tester Gauges are used in inspection and quality control situations to detect the wall thickness of various materials. They may be utilised to determine the extent of damage such as pitting and internal corrosion.
This unit is not suitable for cast iron due to its big crystalloid composition or twin wall pipes.
Ultrasonic Thickness Tester is ideal for checking pipe,bend and reducer wall thickness testing
Suitable for Petrochemical, Pipeline, Fabrication, Aerospace, Shipping, Automotive and other manufacturing industries.
Features:
Auto power off.
Back light function.
Thickness alarm setup.
Low battery indication.
Coupling status indication.
Auto calibration to assure the accuracy.
12 sound velocities for different material.
12 thickness measurement data store and recall.
Measuring range
1.00-300.00mm(steel)
Accuracy
+/-(1%H+0.1mm)
Resolution
0.01mm(1.00 to 99.99mm)
0.1mm(100 to 300mm)
Minimum limit for tube measuring(steel)
Diameter15*2.0mm(6mm transducer)
Diameter20*3.0mm(10mm transducer)
Sound velocity
1000 to 9999m/s
Thickness<==20mm, accuracy of velocity
+/-1mm/H*100%
Thickness>==20mm, accuracy of velocity
+/-5%
Operation environment
Operation Tem: 0-40C degree
Temp of workpiece: <60°C
Relative humidity
<90%
Note

Do not apply in violent vibration/erosive material




Avoid impact and humidity

Power supply
1.5V AAA Batteries
Operation current
<=35mA(with back light on)
Box Contains:
5MHz/10mm probe
5MHz/6mm probe.
Standard sample block: 4mm
Carrying case.
Untrasonic Gell
Manual